NEWS 2010
November 2010
You'll find below the list of our future births for 2011 !
January
Avalon Falkann / Avalon Only You
Avalon Mirage / Avalon Remember
Avalon Mirage / Avalon Jewel
February
MF Aryan el Thessa / Alicia AA
MF Aryan el Thessa /Ishal Kaliko ( product of Natacha Marie Ishal Arabians)
Avalon Ishann / Kenza Arablout
March
Avalon Ishann / Avalon Anakah
MF Aryan el Thessa / Avalon Free Style
Avalon Impakt / Christal Shadamia
MF Aryan el Thessa / Salima Arablout
MF Aryan el Thessa / Azarah al Patoula
April
Idriss du Klintz / Ti Nut's Avalon
Idriss du Klintz / DB Shakleen el Verdi
MF Aryan el Thessa / Pohenia al Patoula
May
MF Aryan el Thessa / Setareh Ghotbi
Ajman Moniscione / Kaira du Klintz
Avalon Impakt / Shamilah Mauna
MF Aryan el Thessa / Shekina Al Dahiba
MF Aryan el Thessa /Ryanna
Avalon Impakt / Paloma de ST Roch
June
Idriss Du Klintz / Special Starr
MF Aryan el Thessa / MT Maggie Mae
MF Aryan el Thessa / WA Muscat's Pride
MF Aryan el Thessa / Sherazade de Nedjaia
July
Ekla de Gargassan / Zaina de Redsun !!!
Ahba Qatar / Avalon US Legacy
Ajman Moniscione / Avalon Kortana
MF Aryan el Thessa / Avalon Just Shining (produit de Philippe Ascaso )
MF Aryan el Thessa / Dahra Balrina
Avalon Mirage / Avalon Esma
August
MF Aryan el Thessa / Monogrammed Lace
Then from 15 march to 15 june …..
Frangipane, Pin's, Top crunchy, Petite pierre ….. all 4 covered by our short stallion chestnut poutch…
October 2010
While the first frost settled, the horses enjoy the last rays of the sun toned with bitting morning temperatures, the weaning are at their peak. My team echoes the sound of tiny hooves.
Each of them has to go after a well-established education, home, walking in hand, shower, shoeing, individuality and games, so many activities that will lead each of them to a respectful and trusting relationship with their new owners.
So this year, all our foals have already found their new home, for I confess that I'm still very committed to building a relationship of complicity between the colts and their new home at an early age.
I still managed to preserve a farm core in babies this year:
Avalon Ifara and Avalon Al Khena, for girls of Klintz Idriss.
Avalon Maeva and Avalon Aevan, the last descendants of Avalon Tshaddar.
Avalon Errana and Avalon Abbshah, my two beautiful daughters of Avalon Mirage.
Avalon Evincjya, my heiress of Ekla certainly in show next year ...
Avalon Qat Woman... an exceptional class only matched by its genetic heritage ...
So here is the future of Avalon...

For next year, the projects are equally effervescent !

Im Bayard Cathare will be part of the stallions team !


I thank Laurence Bonnet for her trust and I look forward with impatience this stallion with an impressive prize and I plan to assign one of my best mares for 2012 births ... Exciting!
It will be also proposed at stud in natural and now I invite all fans, fans, onlookers and critics to make an appointment to get a real idea about the superstar of the show as impressive as that sweet !

The covering price remains unchanged and for my part I will not miss the opportunity to use it because I think he could pleasantly surprise us all as we assign him our best hopes...

Soon, the plan of birth 2011...
September 2010
26th september 2010

It's in the middle of the night, full of remorse for not being able to give you Avalon news before that I sit in front of this blank page. If I waited so long to find my inspiration, it's just that the words and emotions were mixiing in my mind and found no real consistency...

This is a very early morning of August 4, while nature was still asleep and neighs guide my first steps towards morning routines, I wake up my little Ekla Gargassan of a small covering "to the cool" ...
His enthusiasm and zest for life have given way to the nightmare ! A few seconds after mating, he lost his balance and falls a few yards from his mare. My soul of rescuer, I run to the pharmacy to find something to help him, then returned a few seconds later near him, he had already reached the stars...
So fast, so unexpected, him who was shining the day before with my friends...
The terror, confusion, emptiness, a heavy silence, a hole in my life ! Ekla was the door of Avalon, he will have seen all of them coming and going. At my side, he founded Avalon since its birth.

Then, I do not know what pushed me to finish my days, if not my obligations, my arms and my legs have took over my control, despite the support of my family, it is only one I feel...

Cloistered at the end of my way, I lived my sorrow, my eyes plunged into his paddock. I know I'll never see his little face with a heart of gold.
I have one consolation: his life conducted in 3 states has been in his image, insolent in the extreme.
He has excelled in show with many prizes and he is one of the rare horses that were brighter on the grounds of competition than at home, it was just felling good and he loved being the center of attention.
His life in my farm where he loved to change his golden coat for tasks of mud, and where he imposed his kingdom to the other stallions, charmed mares with delicacy and where he lived free.
And his death...
I thank heaven for having taken away his life so quickly without expressing any pain! A final point to my little boy as dignified as possible ...
He lived and died like a flash.

He leaves us with the inestimable treasure of precious maternal lineages that will perpetuate its type and his charisma, and unexpected, the little Zaina of Redsun that has been covered that morning left us a message of hope because she carries a final descendant of Ekla Gargassan.
Finally, for lovers of nice stories, this embryo has been fertilized three days after his death.
The fertile semen of Ekla waited ovulation of Zaina...

I will honor him next summer at the birth of his latest product and I will receive you in late August 2011 for an open day which will be dedicated to him.
And in the following weeks, the whole structure of Avalon stallions which changes.
Avalon Impakt leaves us to join a training base in Switzerland before going to Argentina. Idriss du Klintz left for training for the show of Al Jadida in Morocco. Aryan el Thessa, after a breeding season very busy, goes to clinic for a few frozen semen before flying to USA... And I learnt Avalon Tshaddar died of a ruptured of a kidney and internal bleeding at his owner place in Austria ...
Fortunately, Avalon Mirage will stay with me next year for a final riding season riding !
Avalon Warm Up will also be there !
Avalon Dream Way joined us, perfectly complementing Avalon Ataal for 2 fabulous Tshaddar descendants.

A young team for 2011 !!!
But the future of Avalon waits for me. My sweet and beautiful Avalon Just Shining will give me, maybe, a future founder stallion ? Absolutly no ! It is a beautiful chestnut daughter of Junior World Champion 2009, AHBA Qatar, who born !
A fantastic pedigree, I could just call it Who's Who !
This young lady, finally called Avalon Qat Women, imposes its elegance and fabulous building, a tiny head, beautiful eyes, ears looking as a heart... Let's not be in hurry, but this great filly stands out as a centerpiece in my future broodmares.

Franck Cibois, Nadège Poinsard and their little Alexandra, my friends over here, have "captured" her for me ...

Avalon Qat Women (AHBA Qatar X Avalon Just Shining / WH Justice)

Miss Qat Women, 4 generations Avalon, contemplate you !

Not with less class, It is Anankah which gives also birth its first product called Avalon Errana... A daughter of Avalon Mirage which, I think, reinforces the position of Mirage in the heart of my program of covering in 2011...

Avalon Errana (Avalon Mirage et Anankah par Ekla de Gargassan)
And to finish this year, a son of Ekla of Gargassan is born like a ray of sunshine!

This is the first foal of Dahra Mazurka who has struggled to her functions as a future mother, born on September 11th... And in tribute to Ekla, I named him Avalon Klash!

Avalon Klash
*********
The holidays are over for most of us. To boost the morale of those who are already nostalgic, I propose a photos set as a slide show, photos taken at Avalon 2 by Christelle Alphonse last spring....
Crédit photos slide show : Christelle Alphonse
July - August 2010
The weeks are running so fast, the summer is at its zenith, but the news starved.
Yet the news are rich! Bolds, full of passion, with a "small" key unreasonable that characterizes me.
In June, my friend Frank Oppe, who has just started a horse transport company, fills me with excitement in going to Holland to look for my new treasure of Avalon 2.
Arrived straight from Scottsdale in USA, the new black founder VF Special Starr reaches the floor of his new home. Overwhelmed by the burning sun of summer, I will give her few weeks before you get to know through the talent of Simon. This magnificent founder, a powerful mare in her model, stunning in its movement, unique of beauty, needs respect. In view of its late arrival, she will meet Idris du Klintz for a project in 2011 most anticipated.

Special Starr
At the heart of the program of foaling, the nights take a rythme of cruise. My first concern is to assist as breeder my new little orphan to find her way.

My sweet and maternal Ghysa will help me in this difficult task.
Day and night, every two hours, I alternate through a set of change of loose box, time spent alone and near the new mum of adoption.
A month later, the bet is won ! Ghysa accept if I promise special attentions for her to take care of Avalon AL Khena, my sweet star in the night.

And this is a happy little family under the sun !

Avalon Esma (you have seen it in pictures before I announced it) gave us a very exotic male from Tshaddar. Powerful and refined, gentle and very quiet, its new owner gave him the little name of Karma...

Then I'm totally happy to welcome a beautiful bay daughter of Tshaddar and MT Maggie Mae !
This wonderful lady offers me an ultimate girl with a great pedigree !
A true treasure of qualities, a movement unconventional !
Avalon Maeva will probably stay near me.

Zaina de Redsun, my beautiful blonde, finds herself to be bursting by dynamism and charisma of his son, named Avalon Adalah Zayal !

A golden coat, with an amazing finesse, a young "guy" full of resources, and I recognize in him the flame of spirit of Adalah !
Another of my very old ladies, Almas al Nafara, pure Egyptian with a dream pedigree, gives birth to a third daughter of Idriss Klintz.
Avalon Ifara (pictured below) is a fighter with a mind of steel, bay brown, simply amazing of qualities... Origins gathered in this little gem, a magnificent achievement, a fight for life which has begun 18 months ago after an arrival in a state that many of my friends will not have forgotten.
| | | |
| --- | --- | --- |
| | | |
I then have to hold my breath because the time stops when my founder Avalon Kortan is about to be at full term.
This year, I had married her with Avalon Mirage for many reasons : success, beauty, the sweetness of Avalon Just Shining comforted me in this marriage. Then, to keep a descendant of my very special Avalon Mirage was important to me.

Once again, Avalon Kortana bequeaths the best of his pedigree and inpire to Mirage his magic...
Kortana's first son was born. The first descendant chestnut, a size, a model of the most powerful... No point of weakness, a very long neck, an big class from its earliest days. And the same excitement to discover his movement, the same like his ¾ sister !
Kortana, you succeed to bluff me with each of your products. All your babies are a miracle !

Avalon No Mad ... .. (Nomad) a little wink to his character which is not worried.
Avalon No Mad ... The new inspiration in Avalon ... .. Why not ?



Avalon No Mad
It was without to mention Sherazade Nedjaia that, in a radically different style, also gives birth to a little gem, as exotic as possible. Marriage with Avalon Tshaddar was so touching !
The last born is certainly far from the least... I have no words to define what emanate from him... Like the wind, it touches the ground and turned round his young mother who has great difficulties to hold this young little devil ! His name : Avalon Top Gun.
To follow very close...

Avalon Top Gun
The list of products to born melts like snow under the sun.
But the rest will be very short.
The next is Avalon Shining Just which is waiting for our first product from Abha Qatar (pictures below) ...

In 2011, I think I was even less reasonable...


June 2010
This time, it's Avalon Voltann that had the right to his photo shoot .... you can find him in the sales list ...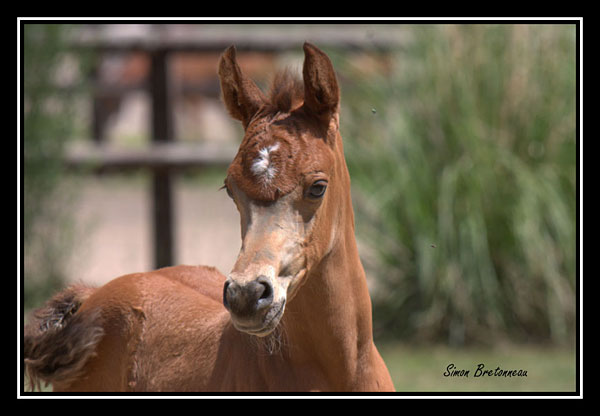 You can also discover our wonderful Avalon Namdaar. Fin him in the sales list...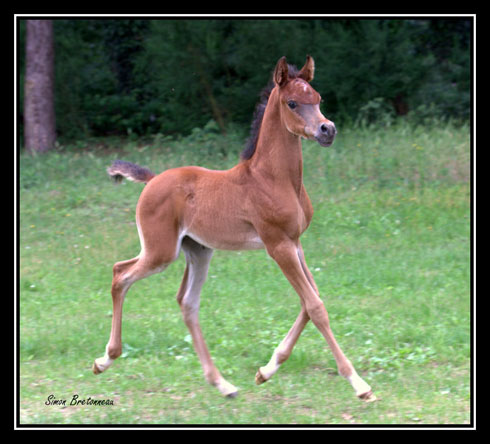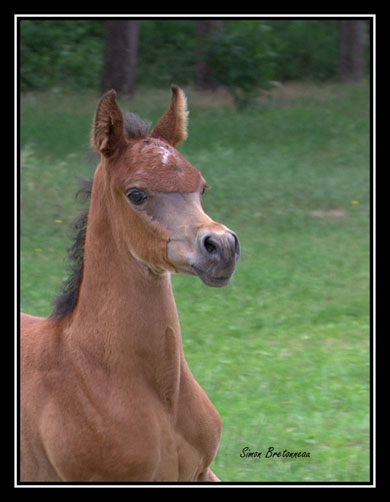 Then, the splendid Avalon Aevann you can also find in the sales list...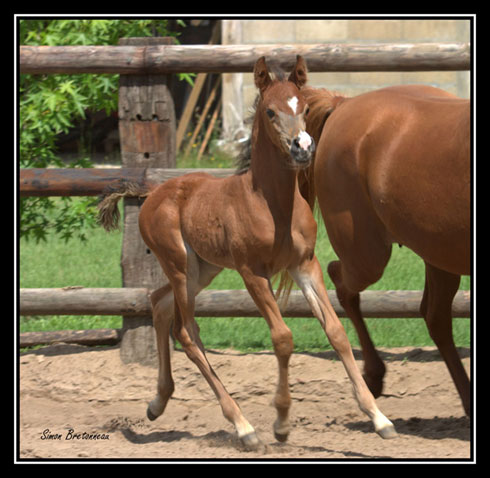 In may, do what you want... Hum ! You must still have time for that !
The stallions see mares arriving every day! The success of Aryan el Thessa, which has started from the birth of its first products, is incredible ! The come back of Avalon Impakt is also symptomatic of a greater interest ! And the charm of our black star, Idriss klintz, works very well ...
The three stallions, with qualities as different as complementary, have full busy days with a lot of activities.

During this time, Ekla Gargassan is back ! He still walks upon the soil with insurance. So what if the youth is required, he remains the owner, the founder of Avalon...

After months of waiting, I see a project which has born that winter...
I am happy to expand my breeding program with a first black mare with an pedigree of exception. This "big" lady (more than 1.60 m), was born in holland and has rare and undeniable qualities, a dream neck, strong legs, type, eyes that undress you, a presence and a nobility which encourage respect !
DM Shakleen de Verdi will then gratify and bring his qualities in my stable.

This year, it will fall under the charm of our Idriss for an in Breeding with R Ali Bey.
At the same time, foaling are always a monitoring of each moment!
Frangipane, our little mini-pony, also gives birth to a black filly that we have named Cachou... A tiny lady already very determined...

And quickly, it's our young Kaira du klintz to give birth to her first foal, a daughter of Avalon Mirage, once again the portrait of his father, a drought and an extreme type, and especially enormous eyes, a gazelle with a slight movement touches the powerful Kaira.

Her mum discovers with an extraordinary serenity his role of mare...


Then, the mares gave me 15 days of respite, then, all went faster. Among the mares confides to foaling and my daughters, it is no less than 8 babies in one week that I had to start...

Shamilah Mauna reveals once again his qualities as a broodmare. She gives birth to a refined colt of Avalon Mirage. It carries in its genetic WH Justice, Monogramm, Nadir I, and it is from Justice that is the closest with very big eyes, long legs, a showy and productive movement, a real place for this young stallion !
I named him Avalon Namdaar.

Kassandra al Sundari, also full of Mirage, has given a daughter to her new owner Christelle Teyssier.
Its seamless model, her strong legs, it is with a guarantee walk that this little Miskah Hasmilah goes out near his mother.

For this time, Mirage has influenced the genetics of Kassandra without to be essential, Miskah Hasmilah is the perfect mix between both parents, a very serious horse for show, sport or breeding, a founder of choice for a stable with solid bases !
The "big" lady Eoliae leaves us an heir of Tshaddar, very serious too!
Full of charm with a small white mark on his head looking as a beautiful heart. The pedigree and the model very serious of his two parents resonates in every of his steps and he sweats a quality all the time... It's hard for me to choose an heir from among all these young hopes... Avalon Aevann, a name with what I should do a long way...

Also in the minutes that were following, our mini toys horse, Top Crunchy, foals an ultra small miniature black male, only about thirty centimeters and 5 small kilos for a small germ of future stallion...
And that continues in the same night. LM Estella, our black pearl, who this year suffered because of serious respiratory problems, is showing signs of discomfort. I surrounded with attentions to her side to relieve her quickly, and in my arms, quickly comes a beautiful black filly whinnying close to her... To this little black pearl, I gave her a name of a star, Al Avalon Kehna, as beautiful as I could not have imagined, as desired and expected after four years of breeding, the first child born of Estella, and contrary to expectation, the only one.
Estella will die a few days later, handing me in the eyes of her daughter, the sole heritage of a unique pedigree ...
To start well in june, this is a new series of photos of Avalon Impakt, pictures made by Simon Bretonneau. You can find all his photos clicking on his name Avalon Impakt.


Click on thumbails to enlarge
May 2010
Available for selling, discover a series of photos of Orient Alherra...

Orient Alherra
In this sunny day, these are some photos where you'll recognize Idriss, the star among the stars...